Nima Sifnos Residences
A new sense of luxury
In one of the most beautiful and classy areas of Apollonia, as per its name, Archontou, lies NiMa Sifnos Residences with the whole of the Aegean Sea unfurling at its foot.
We are glad to welcome you with a sweet and traditional treat and share our love for Sifnos with you, offering unforgettable and relaxing holidays.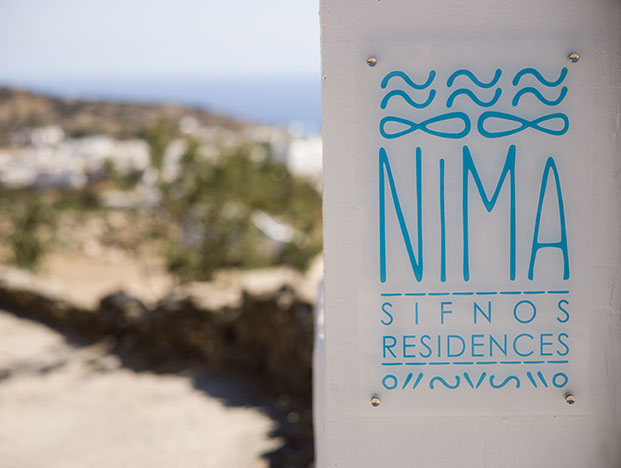 Why NiMa Sifnos Residences?
Discover
Our accommodation
NiMa Sifnos Residences comprises 4 two-room apartments, located a sheer 10 minute walk form the centre of Apollonia, the capital of Sifnos. They feature fully equipped kitchens of modern design, comfortably furnished and minimally decorated.
Each apartment features a spacious, shady veranda with a comfortable sitting area while a painting-like scenery composed of the main Sifnos settlements and the deep blue Aegean Sea stretches out in front of it.
Extras
Because a good day... starts in the morning!
At Nima Sifnos Residences, we prepare a different for each day, rich and home-cooked breakfast while there is the option of vegan/vegetarian choices.
Sit comfortably on your terrace and enjoy the sun's rays shining on the sea and reflected on the white houses of the traditional settlements spread out in front of you.
Respecting the environment that hosts us, we have limited the use of plastic to the minimum while at our premises there is a recyclable material collecting facility.
"The only thing what we can say after our stay here is EXCELLENT! All services are superb. The whole brand new property with well picked up furniture, fully equipped modern kitchen, separately air-conditioned rooms, breath-taking sea view from balcony, etc. And the diamond on the top of everything is Nima staff. So kindly and warm people who will help you without asking on every step... We would like to return by tomorrow :-)"
"Beautiful, clean, new, tasteful apartment overlooking the sea. Views of sunrise and sunset. Easy to get to other parts of the island. Very comfortable bed and nice shower!"
"El trato del personal, la extraordinaria limpieza, la comodidad de la suite. Eleni nos ayudó en todo, siempre dispuesta a cualquier petición. Cama comodísima y lencería de cama y baño excepcional."
"Amazing! Minimalistic and modern interior design; Brand new. The essence of cleanliness was everywhere. Big and spacious apartment. 2 separate ACs and 2 TVs in the living and bed rooms, nespresso coffee machine, very comfortable bed, fully equipped kitchen, great bathroom and shower with shower gel shampoo. Excellent sea view. The area is quiet, peaceful and closed to all amenities and in the island center."
"Everything was amazing! We enjoyed a lot our stay at Nima Sifnos Residences. The staff was kind and helpful. The room was very clean and it was fully equipped. The view from our private balcony was breath taking! Great breakfast! We will come again next year for sure!"